I hope you love the products I recommend! Just so you know, I may collect a share of sales or other compensation from the links on this page. There is no cost to you. Thank you if you use my links, I really appreciate it!
Washing a new car is not complete without the super important drying stage. This needs to be fast and using a large microfibre towel is key. But which towel is the best and how does it help drying a car without scratching it?
In a hurry?
Drying a new car the wrong way will ruin your shine unbelievably fast. Use a big plush drying towel like the famous Griot's Garage 55590 PFM Terry Weave Drying Towel. Mist on some Adams Detail Spray to add shine and protection as you dry. It will help your towel to slide over your car and greatly minimize scratches.
Why bother to dry your car?
Learning the right way to dry your can will make your car's natural shine last years longer.
After you wash your car you must dry it. Here's why
Water spots look terrible.
Water spots eat into your paint.
A wet car attracts dust.
Drying your car is a great time to apply a detail spray.
Your car needs to be dry for most waxes.
What's the fastest way to dry a car?
A powerful leaf blower can be pretty quick but it's not much faster then using a couple of large super soft microfiber towels. Use the first towel to take the larger amount of water off and the second one will remove the last remaining film of water and you're done in a few minutes.
What's the best towel for new cars?
I have a couple of towels I like to use. My favourite and by far the best on the market in my opinion is Griot's Garage 55590 PFM Terry Weave Drying Towel. It's not cheap but there is nothing like it on the market right now in 2020. I have mine for over a year and it's still as good as new. To me this is worth the money. It has 1120 GSM microfibre which is very fine and is super safe to use on car paint. 1120 GSM is considered very high and that's what makes the towel cost a little more.
Apparently the PFM in the name stands for Pure Freakin Magic. LOL.
I also have a Chemical Guys Woolly Mammoth. It's cheaper than the Griots towel and the same size (25×35 inches). It's a good towel too but not as soft and plush as the Griots towel.
One small downside of such a big towels is that they take a while to dry out after a wash. I try to avoid using a laundry dryer and prefer to hang the towel somewhere to dry. It can take a while depending on the temperature in your house.
You can get smaller versions of the Griots Towels that measure 16×16 if you prefer. Many people prefer to use these for buffing wax or cleaning door sills etc.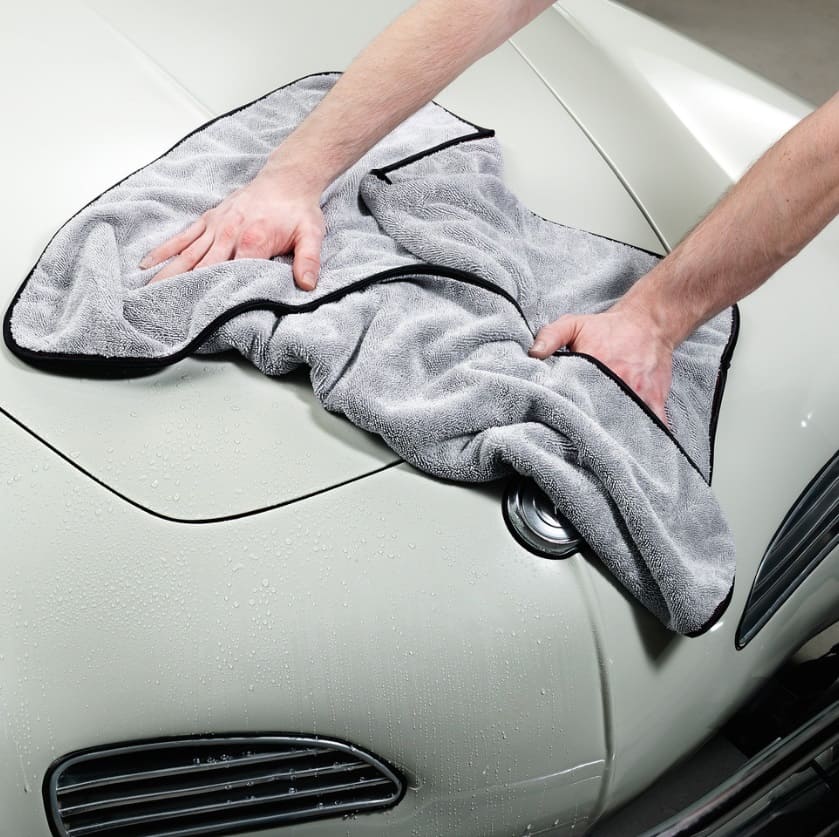 How to dry a car with a microfiber drying towel.
The roof is usually the wettest part so start there. Place your towel flat on the roof and drag it off. This won't get all the water off but don't worry. Get all of the large blobs of water off the roof first.
Now mist on some detailer spray and wipe the roof again. Always try to go in straight lines with as little pressure as possible. The reason for this is to minimize scratches caused by any dirt you missed when washing.
If there was a section you missed with the wash mitt and you were to go rub it in to the paint it would cause some dreaded swirls.
The rest of your car probably won't have so much water on it. Use detailer spray as needed on each section. If your towel gets very wet try to wring it out or grab another clean towel.
Another method I like to use is to take all the large drops of water off with the large drying towel as mentioned. Then I will use a number of smaller drying towels with the detailer spray to remove the remaining water and buff to a shine.
Can you dry a car by driving?
Dust is the problem. It will stick to your wet car if you do this. It's probably better than letting the car dry in the sun but it could still cause water spots that can permanently eat into your paint. It's definitely better to buy the drying towel I mentioned above.
TIP : Only dry a washed car!
Seems obvious maybe, but it's a super important point. If there is any dirt still on your car it could be a bad idea to drag a towel over it. Because, you guessed it, it would cause scratches. If your car isn't perfectly clean you could try to pat it dry but it's not easy to avoid dragging the towel along the paint at some point.
Don't put too much pressure on the towel.
Never scrub. That's the golden rule for car washing. There should be no need to use any pressure on the towel when drying your car. The weight of the towel is enough.
How does a detail spray help drying a car without scratching it?
Quick detailer sprays are hydrophobic. They repel water. So when you mist some on to a panel of your car it will force the water to bead and make it easier for your towel to dry it up.
Detail sprays add some shine and gloss too. You will notice some water beading if it rains shortly after you wash your car. But the protection offered by detail sprays doesn't last very long.
I love quick detailers. You can use them for many different things but if you use them the wrong way you will scratch your car. Click here to read more.
What's the best drying aid for cars?
I have used Adams Detail Spray for years. I love it and love the way it smells. But now I find Meguiars Hybrid Ceramic Detailer can add more gloss so I'm loving that at the moment. Simply mist one or two sprays on to the wet panel before gently drying the car. You will find you need to use fewer passes of the towel. And the less you touch your car the better.
Can I use any old towel to dry my car?
Nope. An old bathroom or kitchen towel will scratch your paint so don't use it. Old rags should be thrown in the garbage. This is your pride and joy we're talking about. It's worth spending the money on a towel. A proper automotive drying towel is definitely money well spent.
Should I let my car air dry naturally?
It's a bad idea to let the water on your car evaporate away because there are minerals in water that can damage automotive clear coat and paint. These can etch into your clear coat and cause a permanent mark that can only be removed with a polishing machine and cutting compound. Some water spots might require wet sanding. These are known as hard water spots and are a world of pain.
Public water supplies vary from region to region. You probably already know if you have hard water in your area. Hard water causes worse water spots and more paint damage so don't let it dry.
Make sure you don't wash your car in direct sun to prevent it drying out too quickly. I usually wash my car around sunset or on a cloudy day. If your paint feels hot don't wash it.
Prevent water spot stains and damage.
Potential water spot damage is also greatly minimised if you have a decent coat of wax or sealant on your car. A spray and rinse wax is the easiest to apply but a liquid wax will last longer and give better shine. Read my post on best waxes to see what's the best on the market.
What if you missed a bit?
You've just finished washing your car when you look up and see a dirty section you missed. The temptation here is to just wipe the drying towel over it to get rid of the dirt but this would be a big mistake. You will cause serious scratches and swirls if you do this.
If the dirt is very slight you can use a detailer spray and gently wipe it away with a microfibre cloth.
The best thing to do is grab a clean wash mitt and a clean bucket of soapy water and very gently wash it. A good alternative is a product like Optimum No Rinse. You can use a spray bottle diluted with water and soak the area, wipe away with a microfibre.
Is a water squeegee safe to use on a car?
No, don't use a water squeegee. They cause too many scratches. They are fine on glass because it's much tougher than clearcoat.
How often should I wash my drying towel?
I wash mine after every wash. Even though my car is clean when I dry it I always seem to pick up some dirt from something. Usually the wheel wells on the underside of the car will make the towel a little dirty.
Is it a good idea to blow dry my car?
I have used a leaf blower to dry my car. It's effective but not as good as a dedicated car air dryer like the Adams Air Cannon.
Sometimes it's actually a bad idea to use a towel. If my car is really dirty in winter time and the weather isn't very good I might use a foam cannon and pressure washer to wash my car. I might skip the hand wash. But the pressure washer doesn't get all the dirt off. It would be a bad idea to use a drying towel if there is still some dirt on the car. So in this case I might use a leaf blower.
The key to getting good results from a touchless wash is 1. The foam you use and 2. The level of protection already on your car. I usually use a spray and rinse wax like meguiars hybrid ceramic wax to add some shine. The foam I use is a dedicated pre wash foam called Bilt Hamber auto foam. And my pressure washer is the Karcher K5 full control.
If my car didn't have a good coat of wax already on it, this touchless wash and dry method would be a lot more difficult because the dirt would not come off so easily. The same problem would happen with the water, it would be difficult to blow off.
Is it safe to use a leaf blower to dry your car?
Yes, I think it's safe to use a leaf blower. Be careful not to hit your car with the hard plastic nozzle. One of the great things about a proper car dryer is that they use super soft rubber nozzles to prevent you from scratching you paint should you accidentally bump into it.
Drying plastic trim.
Plastic and rubber trim can suffer from water spots too. If it's high gloss plastic it's extremely easy to scratch. If it's not glossy plastic you don't need to be too careful when drying.
Dirt can really stick to matt plastic so having a wax on there can make life easier and keep it looking good. But remember some waxes stain plastic. Something like Meguiars Hybrid Ceramic Liquid wax is perfect for plastic and paint alike. Or a classic sealant type product like Carpro Pearl will give great results and protection to plastic parts.
The ultimate alternative to drying your car.
Money no object? You can filter your water so that it won't leave water spots on your car when it evaporates. The CR Spotless system is a product I would love to buy some day. It filters and deionises the water. It's loved by RV and plane owners too. You can even wash your car in the sun when you use one of these. If I had a classic car I would definitely use one of these.
What's the difference between a detailer spray and a drying aid?
Good question. In my experience they are the same thing. Look at the back of almost every detailer spray and it says it can be used as a drying aid.
Why you should dry your wheels too.
I use another plush microfibre towel to do my wheels. I sometimes use some detailer spray here too but not every time. Water spots can form on wheels so you should always dry them.
If water spots have started to form the detailer spray should help remove them. I always apply tire shine after drying the wheels. I use a special sponge for that.
Should I dry my tires?
Usually I find some black gunk comes off my tires even after a wash and my nice drying towel can get really dirty. So I try to avoid letting my towel touch them. Tires don't really suffer from water spots anyway. Carpro Pearl applied with a detailing brush is a good way to get nice black tires.
Do microfiber cloths scratch cars?
As microfibre cloths start to get old you might find the fibres getting a little harder and dried out. It might be time to buy a new one. To make your towel last as long as possible, don't wash or dry them on a high heat. A hot laundry dryer can melt the fibres (they are a type of plastic).
Also remember that the tiny threads of microfibre break off and enter the water stream and are not good for the environment, so that's another reason to wash and dry on low temperatures.
The Master Blaster Car Dryer Review.
This is the dream. I have seen it used by a number of professional car detailers, including ones that detail high end luxury cars and supercars. It gets all the water out of the hard to reach areas like door handles and allow wheels.
These things make a lot of noise and you should get yourself a pair of noise cancelling headphones or some earplugs.
Adam's Air Cannon Jr. Car Dryer
This comes with a fantastic 30 foot hose so you can get all around your car. The hose expands when you turn on the machine and as the air pressure builds.
The air gets filtered so it's better than a leaf blower which could hurl tiny rocks at your car. The air also gets warmed slightly.
Adams claims it's faster to dry your car with this rather than a towel. But I don't think this is accurate. If your car has a recent wax or ceramic coating it will be easier to dry but a large microfibre towel or two is very quick too.
I've been drying the wrong way
You can restore the shine by machine polishing your car. Its easier than you think and the results can be breath taking!
Conclusion
So many people have ruined the shine in their cars because they did not take to time to dry it the right way. And its actually really easy to do.
Get yourself a big drying towel and a detail spray.